Winter in Algonquin Park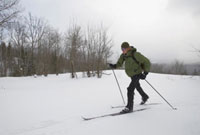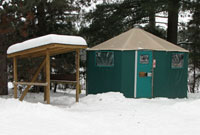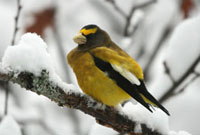 Algonquin Park is a fascinating place to visit in the winter. For many visitors the deep snow, ease of viewing wildlife, and the vast solitude of Algonquin Park's ski trail network and backcountry are appealing. Algonquin Park is open year-round but facility dates and hours of operation vary during the winter months (November to late March/April).
Permits and Reservations
Highway 60 Corridor
Highway 60 Traffic Cameras
Highway 60 is open year-round and is plowed, salted, and sanded by the Ministry of Transportation.
For road conditions, see Highway 60 traffic cameras offering recent images of road conditions in Algonquin Park or consult the Ontario 511 webpage.
Plowed Areas Along Highway 60
As snow accumulates and is not plowed by Ontario Parks, some park facilities become impassible and thus close to vehicular traffic. The snowplowing list below contains plowed and unplowed areas along Highway 60 from west to east as of February 16, 2022. Please check back for updates as winter progresses.
Areas with No Ontario Parks Snowplowing
Park visitors may encounter other snowplowed areas in Algonquin Park. These areas are plowed not by Ontario Parks, but by the forest industry, commercial or private leaseholders, or other third-parties for facility maintenance activities (e.g. cellular service or hydro infrastructure). Visitors should not drive in these areas (especially if these areas are closed with barricades, gates, and/or signage, etc.) as snowplowing can be irregular and only conducted to meet the needs of the third party.
In situations where little time has elapsed since the last snowfall, visitors may experience deep snow conditions in normally plowed areas. Visitors attempting to drive into deep snow conditions should use caution and travel with necessary emergency equipment to free their vehicle without assistance from Park staff. Plowing in Algonquin Park is done on a priority basis, as staff time permits. For more preparedness information see "Winter Safety" below.
From mid-October to mid-May, commercial services are available only outside the Park, this includes accommodation, dining, and outfitting services, plus gasoline and car repair. Visitors should obtain services in Whitney and beyond to the east, and in Oxtongue Lake or Dwight and beyond to the west.
West Gate
The West Gate, which offers information and bathroom facilities, operates on reduced hours during the winter months. Please see the exact operating dates and hours in the Events Calendar.
East Gate
The East Gate also operates on reduced hours, listed in the Events Calendar during winter. This facility offers information and bathroom facilities.
Algonquin Visitor Centre
The Algonquin Visitor Centre is open year-round with longer hours during weekend and during holiday period throughout the winter, see the Events Calendar for complete details. The Visitor Centre offers a Bookstore and Nature Shop featuring souvenirs plus outstanding exhibits on the Park's natural and cultural history. A theatre presentation sums up the Park story and takes you out to a viewing deck from which you can admire a breathtaking panorama of wild Algonquin landscape. The Visitor Centre provides Park information and bathroom facilities. A stop at the Information Desk to talk with staff of The Friends of Algonquin Park is also a wise idea when planning your winter visit.
Mew Lake Campground
Mew Lake Campground is the only developed campground open year-round. Please see "Developed Camping" below for more details.
East Side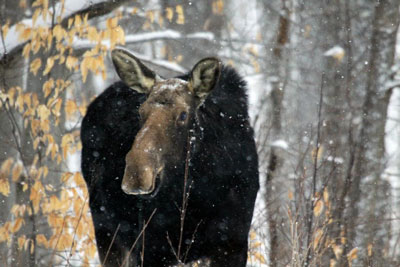 The Barron Canyon Road (access road to Sand Lake Gate) and associated parking lots such as the Barron Canyon Trail, McManus Lake Access Point, Lake Travers Access Point, etc. is not plowed in the winter by Ontario Parks. This includes the +/- 18 kilometres of road outside the Park. Road maintenance (plowing and sanding) is performed by the forest industry to meet their needs, with no maintenance on weekends or holidays. Visitors should not drive these secondary gravel roads during the spring thaw as there is increased risk from hazards such as deep snow, thick mud, washouts, etc. These gravel roads are expected to reopen to public travel when conditions permit, typically in late April. For winter road conditions on the Park's East Side (not Highway 60), contact Brent Frederick, Achray Group Leader at (613) 401-0415.
The Achray Road is typically gated one kilometre from the (closed) Achray Campground from late October to late April and visitors must access the trails and the backcountry on foot from the gate. When winter's snow arrives, visitors wishing to access the Eastern Pines Backpacking Trail, Berm Lake Trail or the backcountry in the Achray area will have to snowshoe or ski about 5 km from the intersection of the Barron Canyon Road and the Achray Road, if the Barron Canyon Road is plowed (see above).
There is no cell phone coverage on Algonquin's East Side.
Developed Camping
Developed camping is available year-round at Mew Lake Campground with campsites and yurts reservable up to five months in advance through the centralized Ontario Parks Reservation System only. The main parking lot and the roads adjacent to campsites #1 to 76 are plowed, and sites #1 to 66 have electrical hook-ups. Sites are plowed as time and weather allow.
The Mew Lake Campground also features yurts (spacious tent-like structures with basic furniture and electric heat; available by reservation only) for those who would like a simple style of roofed accommodation. Reservations for Mew Lake Campground's yurts are taken up to five months in advance through the centralized Ontario Parks Reservation Service. After making your reservation, use your camping reservation confirmation letter as your permit (printed or electronic version are acceptable). In person check-ins are not required, so proceed directly to your reserved campsite. Campers must be able to present their camping reservation confirmation letter (permit) to a Park Warden if requested. No permit is required on your vehicle or campsite post.
A fully-winterized comfort station (flush toilets, showers, and laundry facilities) is available at Mew Lake Campground.
A skating rink is also available near the Mew Lake Campground comfort station for Park visitors (see below for more details). Skiing, snowshoeing, fat biking, hiking and winter camping is permitted on the Old Railway Trail that can be accessed from near the comfort station at Mew Lake Campground (see below for details).
Firewood may be purchased at the Mew Lake Campground woodyard and is housed in a shed beside the woodyard gate. Place payment (cash only) in the fee box at the woodyard.
All Ranger Cabins accessible by vehicle are closed for the winter and typically reopen in May.
Backcountry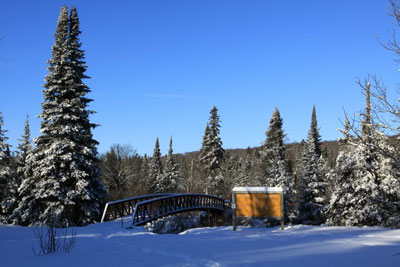 For the adventurer, winter camping is permitted in the Park backcountry, accessible by ski, snowshoe, or dog sled. Backcountry camping is reservable up to five months in advance through the centralized Ontario Parks Reservation Service. After making your reservation, use your camping reservation confirmation letter as your permit (printed or electronic version are acceptable). Campers must be able to present their camping reservation confirmation letter (permit) to a Park Warden if requested. No permit is required on your vehicle.
During winter, several types of backcountry camping are available in Algonquin Park (see below). Online reservations are required for all backcountry camping.
All Ranger Cabins are closed for the winter and typically reopen in May.
Special Rules for Winter Backcountry Camping in Algonquin Park
When the ground is snow covered or lakes are frozen in Algonquin Park, winter backcountry camping is not permitted on designated summer campsites or within 30 metres of a lakeshore, trail, or portage marked on the Canoe Routes Map or Backpacking Trails Map. It is recommended that you camp in low sheltered areas where there is a good supply of standing dead firewood for warmth and cooking.
Interpretive Trails
Algonquin Park's interpretive trails remain open during winter, but have important differences for visitors who may have only visited during other times of the year.
Walking Algonquin Park's interpretive trails during winter is an enjoyable experience for those who are prepared.
Winter in the Wild Festival
The Winter in the Wild Festival is a celebration of winter in Algonquin and highlights some of the season's best activities offered in the Park on Family Day Weekend (mid-February). Events vary from year to year but often include guided bird walks, guest speakers, guided snowshoe excursions, skating, skiing, winter camping demonstrations, a special evening event, and hearty meals. For full event details see the Winter in the Wild Festival webpage.
Winter Recreation
Cross-country (Nordic) Skiing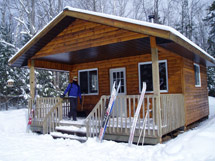 Algonquin has 85 kilometres of groomed and 32 kilometres of non-groomed cross-country ski trails available in several trail networks. Trails range in degree of difficulty from easy to difficult. Ski trails typically open in December and close in March, but obviously are subject to weather conditions. Check the latest ski trail conditions to ensure you are prepared. To minimize damage to groomed ski trails (Fen Lake and Leaf Lake) dogs, walking, snowshoeing, toboggans and sleighs are not permitted on groomed ski trails. Skiing, snowshoeing, fat biking, hiking, winter camping plus toboggans and sleighs are permitted on the ungroomed Minnesing Ski Trail and the non-trackset portion of the Old Railway Trail.
Winter equipment rentals (snowshoes, skis, camping equipment, etc.) are available only from outfitters located outside the Park during winter.
There are no downhill (alpine) skiing opportunities in Algonquin Park.
Snowshoeing
Snowshoeing enthusiasts can go virtually anywhere (except the groomed ski trails). If you prefer to stay on marked trails, check out the interpretive walking trails or either of the two longer overnight backpacking trails. Algonquin's network of portages shown on the Canoe Routes Map also makes a great snowshoeing alternative - but ice travel is not recommended. The multi-use Old Railway Trail is a great snowshoeing location too.
Wildlife Watching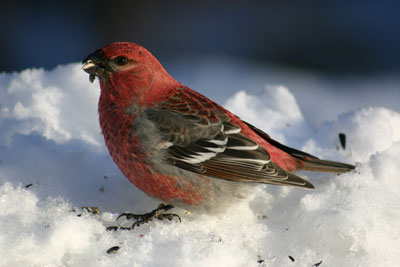 Many winter visitors enjoy observing the tracks of deer, Moose, martens, Fishers, otters, foxes and wolves and occasionally, the animals themselves. Birds such as the Common Raven, Canada Jay, Boreal Chickadee and colourful winter finches are also frequently seen. Check the latest winter birding report for what is being seen and where or stop by the Visitor Centre to talk with Park staff about wildlife watching.
Walking the Spruce Bog Boardwalk Trail in search of northern bird species such as Spruce Grouse, Canada Jay, and Black-backed Woodpecker, or exploring the Opeongo Road are popular winter activities for birders and wildlife watchers. Another popular location for birds is the observation deck at the Visitor Centre.
It is illegal for any visitor to feed wildlife in any of Ontario's provincial parks, including Algonquin Park.
Dog Sledding
Dog sledding trails are found in two locations in Algonquin Park - one along Highway 60 and one in the northwest section accessible from the village of South River on Highway 11. Commercial operators offer dog sledding services and should be contacted directly for information or, if you wish to use the trails independently, contact the Park for detailed trail maps and permit information.
Skating and the Mew Lake Campground Ice Rink
A skating rink near the Mew Lake Campground comfort station is in operation during winters in Algonquin Park, as weather conditions permit. If you are coming to Algonquin Park pack your skates and hockey sticks. The Mew Lake Campground ice rink is located near the heated comfort station and has lights for evening skating, a campfire pit with wood, a hot tent for warming up and hockey nets. Please note that the ice rink may be closed by Park staff during periods of above freezing temperatures to preserve ice conditions. Check at the rink for important notices.
Winter Ice Fishing
Regulated winter fishing is prohibited. Algonquin Park serves as a fish sanctuary from December to late April. See Fishing in Algonquin Park for more details.
Snowmobiling
See Snowmobiling in Algonquin Park for more information on this topic.
Winter Safety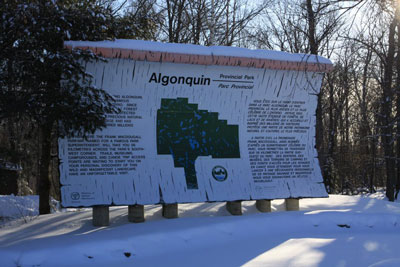 A visit to Algonquin in winter can be extremely rewarding, but there are dangers. On any visit to Algonquin Park, visitors must be aware of their limitations. Your safety in Algonquin Park - as elsewhere - is ultimately your responsibility. Be prepared! Winter camping requires special care and attention to equipment. On any trip it is wise to tell someone back home your exact itinerary and expected return date. Even following this advice and the fact that the Park staff do patrol the Park, it cannot be taken as assurance that you would be found in time if you were to become lost or have a serious accident in sub-zero temperatures.
The Park advises against ice travel due to a range of environmental variables and the difficulty in detecting hazards. Be prepared for a cold-weather emergency.
Cellular telephone coverage is not Park-wide; generally it is limited to only several kilometres on each side of Highway 60 and, even in this area, service can be "none" to "limited."
---
Related Information
Reserve your developed or backcountry campsite for your next visit.
Share your passion for Algonquin Park by becoming a member or donor.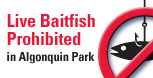 Special regulations for Algonquin's special fishery.