Legal
Terms of Use
Unless otherwise indicated, this website and its contents are the property of The Friends of Algonquin Park. The site and its contents are protected, without limitation, pursuant to Canadian and international copyright and trademark laws. By accessing this website, you agree to the following terms and conditions. If you do not agree, you have no right or license to access this website and you should not do so.
The materials made available in this site, including materials in linked sites directly or indirectly accessible from this site, are provided "as is" without warranties of any kind, either express or implied, including but not limited to all implied warranties of merchantability, fitness for a particular purpose, title, or noninfringement. We do not warrant that the materials will be error free, nor free of viruses, defamatory, offensive, or other harmful matter. You assume the entire cost of any necessary service, repair, or correction.
Copyright
© 1998 - 2022 The Friends of Algonquin Park. All Right Reserved.
All text, images, graphics, animation, videos, music and other materials on this website are subject to the copyright and other intellectual property rights of The Friends of Algonquin Park. These materials may not be reproduced, distributed, modified or reposted to other websites without the express written permission of The Friends of Algonquin Park. All of the source code on this site is copyrighted, whether html, javascript, or otherwise.
Permissions
To request permission to use any of our copyrighted content, contact us for complete details.
Trademark
The marks appearing on this website including, but not limited to: (i) The Friends of Algonquin Park and the The Friends of Algonquin Park Logo; and (ii) Experience Algonquin and Experience Algonquin Logo are trademarks of The Friends of Algonquin Park.
Notices
The information contained herein is designed to be as comprehensive and factual as possible. We reserve the right, however, to make changes at any time, without notice.
Some links provided in this site may lead to sites furnished by independent site owners. The information presented therein is the sole responsibility of those site owners. The Friends of Algonquin Park has no control or responsibility for the content of independent sites and provides these links to its visitors for their convenience. The materials that can be accessed from linked sites are not maintained by us and we are not responsible for the contents thereof. Any reference to a linked site or any specific third party product or service by name does not constitute or imply its endorsement by us, and you assume all risk with respect to its use.
The information contained on the website is for informational purposes only. It is not intended to provide legal, accounting, tax, investment, financial, medical or other advice to you, and you should not rely upon the information to provide any such advice.
To the extent that portions of this website (such as "social media" or "discussion forums") provide users an opportunity to post and exchange information, ideas and opinions ("user generated content"), be advised that The Friends of Algonquin Park has no obligation to screen, edit or review user generated content prior to their appearance on this website, and user generated content does not necessarily reflect the views of The Friends of Algonquin Park and/or its partners. To the fullest extent permitted by applicable laws, The Friends of Algonquin Park shall in no event have any responsibility or liability for the user generated content or for any claims, damages, or losses resulting from their use and/or appearance on this site.
You hereby represent and warrant that you have all necessary right in and to all user generated content you provide and all material they contain; that your user generated content shall not infringe any proprietary or other rights of third parties; that your user generated content shall not contain any viruses or other contaminating or destructive devices or features; that your user generated content shall not contain any defamatory, indecent, offensive, tortious, or otherwise unlawful material or content; and that your user generated content shall not be used to carry out or solicit any unlawful activity and/or be used to make commercial solicitations.
The Friends of Algonquin Park reserves the right to monitor all user generated content and to remove any which it considers in its absolute discretion to be offensive or otherwise in breach of these terms and conditions.
You hereby authorize The Friends of Algonquin Park to use and/or authorize others to use all or part of your user generated content in any manner, format, or medium that The Friends of Algonquin Park or such other parties see fit. You shall have no claim or other recourse against The Friends of Algonquin Park for infringement of any proprietary right in user generated content.
We reserve the right to add, delete, or modify any or all terms of use at any time with or without notice.
Translation Services
Translation services are provided by Google Translator. The Friends of Algonquin Park is providing this link to you only as a convenience and the inclusion of this link does not imply endorsement or verification of the translation services.
"Get Directions" & "Directions" Using Google Maps
Given the remote location of Algonquin Park and its facilities, attractions, etc., Google Maps and other mapping programs do not provide the best travel routes 100% of the time depending upon the location(s) entered by the user. Do not solely use Google Maps (or any other mapping software) as your only means of navigation to Algonquin Park and is facilities. It may be possible for Google Maps (or other mapping software) to provide driving directions on closed roads. Please consult a secondary source, such as, The Official Road Map of Ontario to confirm your directions prior to departure.
---
Related Information
Reserve your developed or backcountry campsite for your next visit.
Share your passion for Algonquin Park by becoming a member or donor.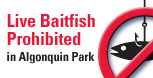 Special regulations for Algonquin's special fishery.