Natural & Cultural History
Algonquin Provincial Park lies in a transition zone between deciduous forests typical of areas to the south of the Park, and coniferous forests, more typical of areas to the north. The result is that both forest types are found, and five major habitat types are found within Park boundaries supporting a diversity in plant and animal life.
Much of what we know about Algonquin's plants, animals and people has been learned through scientific research. A tremendous amount of scientific research has taken place in Algonquin Park over the years, and the Park continues to provide an important area for biologists and ecologists.
Reserve your developed or backcountry campsite for your next visit.
Share your passion for Algonquin Park by becoming a member or donor.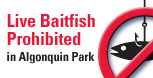 Special regulations for Algonquin's special fishery.