Volunteer
The Friends of Algonquin Park is currently in search of:
---
Algonquin Logging Museum Volunteers 2022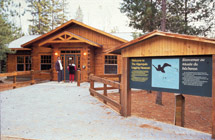 The Friends of Algonquin Park is looking for interested individuals to volunteer their time to assist at the Algonquin Logging Museum. We are looking for volunteers from June 11 to October 16, 2022. The hours of commitment are 8:30 am to 5:15 pm. Commitments for one day to multiple weeks will be considered. The Algonquin Logging Museum is located at km 54.5 along the Highway 60 corridor within Algonquin Park.
The museum brings to life the story of logging from the early square timber days to the last of the great river drives, and onward to current forestry practices. The Algonquin Logging Museum has a welcoming reception building with a bookstore, which is where our volunteers would be stationed. A typical visit begins with a video presentation that sums up the logging history of the Algonquin area. Then visitors take a step back in time and learn about this colourful aspect of Algonquin's cultural history along an easy-to-walk 1.5 km trail. A recreated camboose camp and a fascinating steam-powered amphibious tug called an "alligator" are among the many displays along this loop trail.
Duties
Acting as an ambassador for Algonquin Park

Providing general information on Algonquin Park facilities, cultural and natural history

Assist with the processing of bookstore sales and subsequent stocking preparations

Assist with balancing sales remits and cash floats at end of each shift

Opening and closing the facility and maintaining daily exhibit and theatre operations
Qualifications
Excellent interpersonal, organizational, and oral and written communication skills

Energetic, enthusiastic, and committed to customer service excellence

Experience in retail operation

Knowledge of Algonquin Park

Knowledge of Ontario's natural and cultural history

An appreciation for the outdoors

A valid Driver's Licence

Ability to provide a current and satisfactory criminal background check

Ability to speak languages in addition to English would be an asset
COVID-19 and Your Volunteering
Volunteers are expected to adhere to COVID-19 regulations, prevention best practices, and The Friends of Algonquin Park's COVID-19 safety plan.
Please note that details listed above may change as a result of COVID-19 restrictions.
Expression of Interest
A detailed resumé outlining knowledge, skills, experience, and references should be emailed, mailed, faxed or dropped off to:
Stacey Finch
Partnership Coordinator
The Friends of Algonquin Park
Box 248
Whitney, ON K0J 2M0
Tel: (613) 637-2828 ext. 239
Email
Those individuals chosen to move forward in our volunteer program will be contacted. We thank all individuals for their interest in supporting Algonquin Provincial Park.
---
Cooperative Education & High School Volunteer Opportunities
The Friends of Algonquin Park has hosted various unpaid cooperative education and high school volunteer opportunities. Please contact us for more information.
---
General Volunteer Opportunities
The Friends of Algonquin Park is occasionally in need of volunteers for various special events and educational opportunities. If you are interested in volunteering with The Friends of Algonquin Park, please contact us and let us know how you can assist us and when you are available.
---
Related Information
Reserve your developed or backcountry campsite for your next visit.
Share your passion for Algonquin Park by becoming a member or donor.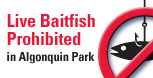 Special regulations for Algonquin's special fishery.