Algonquin Park Commercial Services
Many businesses both within and outside Algonquin Park provide products and services useful for visitors. Use the map or drop-down menu to find a product or service on your travel route to Algonquin Park, or close to the area where you will be staying. These are paid advertisements. Content accuracy is the responsibility of the advertiser. Don't forget to tell advertisers you found them on The Friends of Algonquin Park website.
Geographic Listing of Commercial Services
Click on markers to find commercial services in and around Algonquin Park. Commercial services not providing a physical business location are not listed on the map, but are listed in the category drop-down menu below.
Alphabetical Listing of Commercial Services by Category
Click the category drop-down menus to find a product or service needed on your next Algonquin Park visit.
Advertise With Us
If you are a local business that can provide to Algonquin Park's many visitors, take advantage of this opportunity to promote your product or service. Contact Laura Finney (613 637-2828 ext. 236) at The Friends of Algonquin Park for more information about various advertising and partnership opportunities.
Reserve your developed or backcountry campsite for your next visit.
Share your passion for Algonquin Park by becoming a member or donor.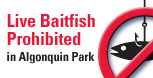 Special regulations for Algonquin's special fishery.