Our Projects
By making a donation, becoming a member, or purchasing a map or book you have helped The Friends of Algonquin Park raise millions of dollars since its inception. Your support allows The Friends to undertake and fund projects to support educational programs in Algonquin Park.
Current Projects
This list of a selection of current project has been approved by the Board of Directors and includes:
Brent Historic Site Exhibit & Brent Crater Interpretive Panels
Oral History Tape Transcription
Research Cooperative Funding
Wood Turtle Research
Sustained Program Support
Algonquin Park Archives Staffing
Cache Lake Historic Site Exhibit
Oral History Interviews
Publications
Reprinting Publications
---
Related Information
Reserve your developed or backcountry campsite for your next visit.
Share your passion for Algonquin Park by becoming a member or donor.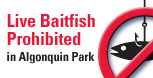 Special regulations for Algonquin's special fishery.