The Friends of Algonquin Privacy Policy
The Friends of Algonquin Park (FOAP) is committed to protecting your personal information, keeping it accurate, confidential, secure and private. We respect your right to privacy and have instituted practices that will help ensure that your personal information is handled responsibly.
Your provision of personal information to FOAP means that you agree and consent that we may collect and use your information in accordance with this privacy policy.
Personal Information
Personal information that you provide to FOAP will only be used to demonstrate and maintain a service, member, donor, customer or client relationship with you. This includes: contact and identification information such as name, address, telephone number, email address, donation and purchases information, financial information such as payment methods.
Periodically FOAP may conduct marketing and/or business research but otherwise, we will not use, or disclose your personal information for purposes other than those for which it was collected, except with written consent of the individual or as required or permitted by law.
FOAP does not sell personal information to Third Parties.
Accuracy of Information
FOAP aims to ensure that any personal information provided is accurate, complete and current as required for the purposes for which it is to be used. Individuals are entitled to check the accuracy of their own personal information and to request that it be amended, if appropriate.
Website Security
FOAP uses encryption technology to ensure the integrity and privacy of the personal and credit card information you pass to us via the Internet when you become a member, make an online donation or place an online order.
It is important to understand, that general e-mail information is not sent encrypted. We strongly recommend you use only secure ordering processes to transmit your important personal data, such as credit card information.
Opt Out Options
We give Users opt out options whenever necessary and practical. Such choices include:
Opting not to provide certain personal information when registering.
Opting not to receive bulk emails and other information and marketing materials from FOAP.
Retention of Personal Information
We keep personal information only as long as required and this time varies depending on the reason it was collected. We keep your information for 7 years, in accordance with Canada Revenue Agency rules and regulations. When your personal information is no longer required for our purposes, the information is destroyed.
Scope of Statement
This privacy statement applies only to FOAP and not to any other organization. Our website contains links to other websites, which are responsible for their own privacy policies.
Inquiries
If you have any questions about this privacy policy, please contact us.
Reserve your developed or backcountry campsite for your next visit.
Share your passion for Algonquin Park by becoming a member or donor.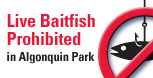 Special regulations for Algonquin's special fishery.