Directions to Algonquin Park
General Directions
Algonquin Provincial Park is located in south-central Ontario, Canada and covers 7,630 square kilometers (2,946 square miles). It is about 250 km north of Toronto, Ontario and about 260 km west of Ottawa, Ontario, Canada's capital. The Park is located at approximately 45.8°, -78.4°.
Highway 60, the Park's only major highway (open year-round), runs through the south end of Algonquin Park as is easily accessible by car. The East Gate is located just west of the town of Whitney, Ontario. The West Gate is located just east of the town of Dwight, Ontario. There are many other Access Points to the Park that run off Highway 17 to the north of the Park. Other Access Points run off Highway 11 to the west of the park and others run off of Highway 60 to the east of the Park.
---
Get Specific Directions Using Google Maps
Get directions to a specific place in Algonquin Park using Google Maps. Select the location in Algonquin Park from the drop down menu and then enter your starting location. Please note that in certain circumstances that Google Maps may direct users to follow private, closed roads. Please consult an official Ontario Road Map in addition to Google Maps for more information.
The boundary (and thus shape) of Algonquin Park is not correct in Google Maps. Do not use Google Maps as a precise indicator of the legal boundary of Algonquin Park.
---
Using Kilometre Markings Within Algonquin Park

As you travel along roads such as Highway 60 in Algonquin Park, take note of the kilometre markers at each kilometre which aids in locating facilities and attractions within the Park. Many secondary roads also have kilometre markings to assist with navigation. These markers are used to orient visitors and staff when providing information about the locations of Park facilities. For example, the Algonquin Visitor Centre is located at km 43, namely it is 43 kilometres from the West Gate (which is km 0 along Highway 60). Algonquin Park does not have 911 address numbers like much of Ontario.
---
Related Information
Reserve your developed or backcountry campsite for your next visit.
Share your passion for Algonquin Park by becoming a member or donor.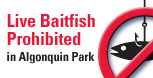 Special regulations for Algonquin's special fishery.