Emergency Information
In the case of an emergency in Algonquin Park contact the nearest Algonquin Park office or call:
Ontario Provincial Police 1-888-310-1122
Ambulance
Barry's Bay/Whitney (613) 756-3090
Huntsville/Muskoka 1-800-611-1146
Hospital
Barry's Bay (613) 756-3044
Huntsville (705) 789-2311
Forest Fires
Pembroke 1-800-853-4937
Haliburton 1-888-239-4565
Ontario Poison Control 1-800-268-9017
Telehealth Ontario 1-866-797-0000
Report Natural Resources Violations 1-877-847-7667
Algonquin Park Administrative Office (613) 637-2780
---
Related Information
Reserve your developed or backcountry campsite for your next visit.
Share your passion for Algonquin Park by becoming a member or donor.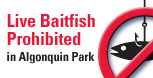 Special regulations for Algonquin's special fishery.