Algonquin Park Fees & Permits
All who use Algonquin Park (or any Provincial Park) must have a valid Park Permit. Permits and applicable fee differ depending upon your use of the Park.

Ontario Parks has started a pilot project in Algonquin Park with regard to the advance online purchase of day use permits and capacity limits. See important information if you are a seasonal or commercial day use permit holder.

As of May 1, 2021, Ontario Parks has increased Daily Vehicle Permit fees in Algonquin Park to $21.00 per vehicle per day along Highway 60, and $18.00 per vehicle per day in other locations. See Daily Vehicle Permits for details.

The Government of Ontario has announced that provincial parks in Ontario will be offering free weekday visits from Monday to Thursday from May 1, 2021 to September 2, 2021. A valid (paid) permit is still required to visit on Friday, Saturday, and Sunday (and for all overnight camping [see below].) Visitors must obtain a free Daily Vehicle Permit from Mondays to Thurdays.
Day Use
Permits for those visiting Algonquin Park and do not require overnight accommodation. Day use permits are valid from 7:00am to 10:00pm.
Camping
Permits for those staying overnight in a developed campground, backcountry campsite, yurt, ranger cabin, or similar. Visitors with a valid overnight camping permit do not require an additional day-use permit for the same period.
---
Related Information
Reserve your developed or backcountry campsite for your next visit.
Share your passion for Algonquin Park by becoming a member or donor.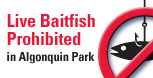 Special regulations for Algonquin's special fishery.