Camp Cabins in Algonquin Park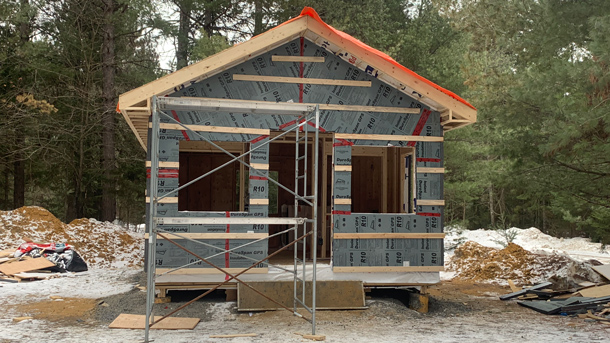 Image: Camp Cabin under construction at Mew Lake Campground in Algonquin Park.
Camp Cabins are a roofed accommodation option in Algonquin Park. These drive-to cabins are currently under construction at the Mew Lake Campground. The one room structures are easily accessible by vehicle at the Mew Lake Campground and are expected to be reservable later in 2022. Stay tuned for more details.
Camp Cabin Locations
Camp Cabin Features and Amenities*
Camp cabins generally feature the following amenities. *The amenities of camp cabins in Algonquin Park may change as construction progresses. Check back for updates.
drive-to access
parking on site for one vehicle
open year-round
sleeping up to 5 people, featuring a queen bed plus a double/single bunk bed
kitchenette featuring microwave and small fridge
electricity with lighting
heat
propane fireplace
wood interiors
interior table with chairs
bathrooms and showers are available at the nearby campground comfort station (not in the camp cabin)
fire extinguisher and smoke detector
gas barbeque (outdoor)
picnic table (outdoor)
Campground Location
Drive-to access within the Mew Lake Campground (located at km 30.8 of Highway 60).
Latitude/Longitude: 45.577837°, -78.513652°
Make a Reservation - Coming Soon!
Reservations are not yet available for this rental camp cabin. Reservations will be made via the Ontario Parks Reservation Service. Stay tuned for more details.
Nearby Attractions
---
Related Information
Reserve your developed or backcountry campsite for your next visit.
Share your passion for Algonquin Park by becoming a member or donor.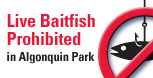 Special regulations for Algonquin's special fishery.