Highland Backpacking Trail
Description
Length
19 and 35 kilometre loops
Location
Highland Backpacking Trail is located at km 29.7 of Highway 60.
Latitude/Longitude: 45.573014°, -78.525263°
Operating Dates
Difficulty Rating & Rationale
Difficult. Steep climbs, side slopes and sharp turns.
Features & Amenities
Parking
Bathrooms
Scenic lookouts
Lakes and rivers
Trail Map
The Backpacking Trails Map of Algonquin Provincial Park is the essential trip planning map-brochure that outlines detailed routes, campsite locations, required equipment, how to make campsite reservations, and important safety information.
Backcountry Permits
Make a reservation for your backcountry camping permit up to 5 months in advance. Permits are only available online or via telephone.
Fees
A valid camping permit is required for trail use.
Equipment Rental
Do you need to rent a canoe, tent, or other camping equipment? Find a business that can supply some or all of the required equipment for your backcountry trip.
---
Nearby Attractions
---
Related Information
Reserve your developed or backcountry campsite for your next visit.
Share your passion for Algonquin Park by becoming a member or donor.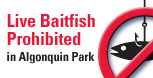 Special regulations for Algonquin's special fishery.