Current as of
Algonquin Park Advisories
Algonquin Park visitors should be aware of the current advisories shown on the map below. Click the icon or shading and follow the link(s) to gain more information about the specific alert notification. These advisories or alerts may include unexpected campsite or trail closures, boil water orders, low water levels, etc. Please review this map before any visit to Algonquin Park for the most current Algonquin Park information.
---
Related Information
Reserve your developed or backcountry campsite for your next visit.
Share your passion for Algonquin Park by becoming a member or donor.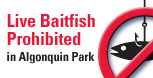 Special regulations for Algonquin's special fishery.