Mew Lake Campground

Operating Dates
Mew Lake Campground is open all year round. It is operated Ontario Parks.
Location
Mew Lake Campground is located at km 30.8 of Highway 60.
Latitude/Longitude: 45.577837°, -78.513652°
Campground Office Hours
September 14 to October 12, 2020


Monday to Thursday, 11:00am - 5:30pm

Friday, 9:00am - 6:00pm

October 13 to 18, 2020


Monday to Friday, 11:00am - 5:30pm

Saturday and Sunday, 9:00am - 6:00pm

October 19 to 23, 2020

October 24 to 25, 2020

October 26 to November 1, 2020

Features & Amenities
Campground Map
Below is a current map of the Mew Lake Campground for trip planning purposes. Click to enlarge the map.
Make a Reservation
Make a reservation for Mew Lake Campground
Reservations are available for Mew Lake Campground during all seasons. During the winter months, additional first-come, first-served camping opportunties are available. See the Winter in Algonquin Park page for more details.
Nearby Attractions
---
Related Information
Reserve your developed or backcountry campsite for your next visit.
Share your passion for Algonquin Park by becoming a member or donor.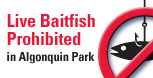 Special regulations for Algonquin's special fishery.