Campground Reservations
Telephone 1-888-ONT-PARK (1-888-668-7275)
Or 519-826-5290 for outside of North America
Background
Ontario Parks charges fees for all developed camping in Algonquin Park.
Reservations can be made 5 months before your arrival date. For example, campers can reserve on February 1 for July 1.
A non-refundable reservation fee is charged when you make your reservation.
The full cost of your reservation is due at the time of booking.
Reservations for campsites in developed campgrounds can be site-specific. To help choose a site, view our campground maps located on the specific developed campground page.
A campsite can be reserved for a minimum of 1 night and a maximum of 23 nights.
No more than 6 people can occupy a campsite (unless these people comprise a single-family group of parents, and their children)
1 vehicle is included in your camping fee - all other vehicles must purchase an Additional Vehicle Permit at the time of registration
Where space permits, you are allowed up to 3 pieces of shelter equipment plus one dining shelter/tarp on your campsite. Only one piece of shelter equipment can be a tent trailer, house trailer, motor home, or self-propelled camping unit.

Before Making Your Call
Before calling the Ontario Parks Reservation Service know the following:
the name of your preferred campground
your arrival and departure dates
the type of campsite required (hydro, tent or trailer, etc.)
your name, address, and postal code (reservations must be made in the name of the person who picks up the camping permit)
your telephone number
an email address (All bookings where an email address has been provide will receive their confirmation letter by email, including changes and cancellations. If an email address is not provided a confirmation letter will be sent by mail.)
the number of people in your party (maximum of 6 persons per campground campsite)
your vehicle licence plate number (maximum 1 vehicle per campsite - all other vehicles must purchase an "Additional Vehicle Permit" at the time of registration)
how you will be paying (if by credit card have its number and expiry date ready)
Changing or Canceling a Reservation
Reservations may be changed by contacting www.ontarioparks.com or telephone 1-888-ONT-PARK (1-888-668-7275)
A cancellation, change, and/or administrative fee may be applicable.
Your Arrival & Late Arrivals
For developed campground check in time is after 2:00pm, and check out time is before 2:00pm.
Reservations are only held until 8:00am the day following your scheduled arrival date. Reservations not claimed by this time will be considered a "no show" (and penalties may apply). See www.ontarioparks.com for more details.
---
Related Information
Reserve your developed or backcountry campsite for your next visit.
Share your passion for Algonquin Park by becoming a member or donor.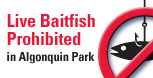 Special regulations for Algonquin's special fishery.