Backpacking in Algonquin Park
Throw on your backpack and head out for a few days and nights of camping in Algonquin's backcountry. Backpacking trails allow you to explore loop routes ranging from 6 to 88 kilometres in length.
Algonquin's Backpacking Trails are:
Related Information
Reserve your developed or backcountry campsite for your next visit.
Share your passion for Algonquin Park by becoming a member or donor.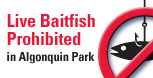 Special regulations for Algonquin's special fishery.