Yurts in Algonquin Park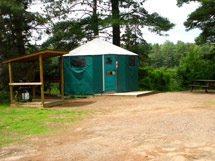 Yurts are eight-sided, tent-like structures are mounted on a wooden deck floor and offer electric heat. These structures can sleep up to 6 people, are accessible by vehicle at the Mew Lake Campground and Achray Campground and are suitable for camping year round.
Yurt Locations
Yurt Features & Amenities
accommodate up to 6 people
bunk beds (2 sets, each with single and double bed, and a vinyl-covered futon mattress)
electric heat and one electrical outlet (110V) [not available at Achray Yurt]
fluorescent lighting
campsite with a 15A and 30A receptacle [not available at Achray Yurt]
table with 6 chairs and indoor shelving unit
propane barbecue for outdoor use only (propane supplied) [May to Thanksgiving only]
cooking utensils, cutlery, dishes, glasses, kettle, pots [Mew Lake Campground Yurt only (not the Achray Campground Yurt), May long weekend to Thanksgiving only]
outdoor fire pit and picnic table
fire extinguisher and smoke detector
What should you bring?
sleeping bag/bedding, pillow
personal items
clothing suitable for the time of year (e.g., rain gear, cold-weather clothing)
food, coolers with ice
cook stove, lantern and fuel (for outdoor use only)
cooking and dining necessities (when staying at yurt at Achray Campground, and when at Mew Lake Campground yurts in the off-season)
camping gear (e.g., flashlight, axe, fire starter, matches, insect repellent, water container, tarp, camping chairs, etc.)
extension cord
Special Rules for Yurt Camping
maximum of 6 people allowed
two vehicles allowed on sites with yurts at Mew Lake Campground
one vehicle only is allowed on the yurt site at Achray Campground
cooking, open flames, and smoking are not allowed in yurts
pets are not allowed in yurts, or on the site (except Yurt 62 at Mew Lake Campground)
Tents, trailers or RVs are not allowed on a site with a yurt
---
Related Information
Reserve your developed or backcountry campsite for your next visit.
Share your passion for Algonquin Park by becoming a member or donor.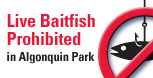 Special regulations for Algonquin's special fishery.