RV Camping in Algonquin Park
Recreational vehicle (RV) camping is possible at developed campgrounds in Algonquin Park. A selection of campsites in developed campgrounds are suitable for RVs, however some specific campsites may be too small to accommodate a recreational vehicle (tent only). When making a reservation for a developed campsite please ensure your campsite requirements indicate the use of an RV and its size (e.g. van/camper, up to 5.4 metres [18 feet], up to 9.7 metres [32 feet], over 9.7 metres [32 feet]).
Generally, the following types of RV are suitable for camping in Algonquin Park.
folding camping trailers
truck campers
travel trailers
fifth wheel travel trailers
sport utility RV (SURV)
expandable (hybrid) travel trailers
class A motorhomes
class B camper van
class C mini motorhome
Electrical Campsites
Electrical campsites are available at the following drive-to campgrounds. Electrical outlets are frequently used with RVs, trailers, and charging electric vehicles (EVs). See the specific campground maps for areas with electrical connections.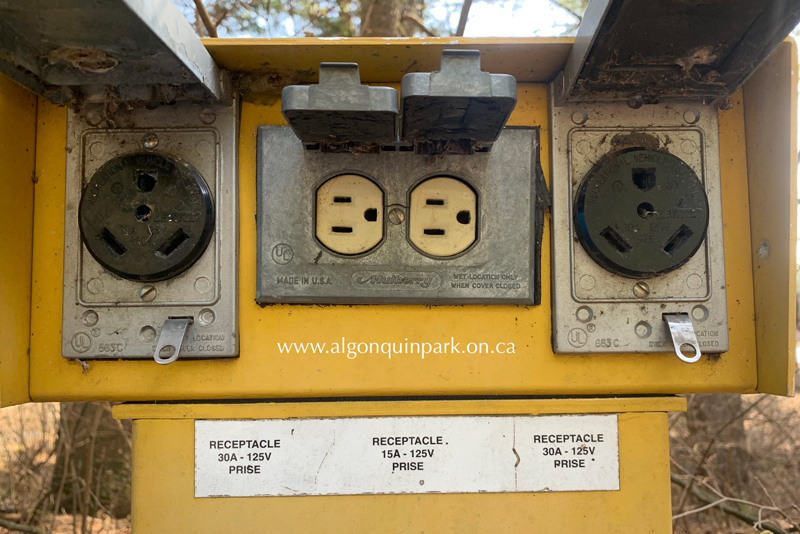 Electrical campsites in Algonquin Park generally share electrical outlets between two neighbouring campsites. This means you and your camping neighbour will share the same electrical post with 4 outlets (two 15amp and two 30amp circuits), see above. Since placement of the electrical post varies depending upon the campground and specific campsite, it is recommended to bring the longest extension cord you have access to, which will allow you to run electricity from the post to your desired camping location. A 15 metre (50 foot) or 30 metre (100 foot) extension cord is generally what is suggested in most circumstances.
Generators
Generator use is permitted in developed campgrounds in Algonquin Park with certain restrictions.
Instead of running a generator, consider reserving an electrical campsite available in many campgrounds. If you must run a generator, minimize generator run time.
RV Dumping Stations
Algonquin Park has two locations for the disposal of RV sewage. The main location is the Trailer Sanitary Station (km 35.6 of Highway 60) and the second is the Trailer Sanitary Station at Rock Lake Campground. Both locations have trailer sewage disposal facilities and fresh water filling stations. Both trailer sanitary stations in Algonquin Park are closed for the winter months (late October to early May) but are weather dependent.
A new trailer dump and fill station is under construction in the Minnesing Trail/Canisbay Lake Campground area. This trailer dump and fill station is under construction and not yet open for use. Check back for updates. Learn more.
Comfort Stations
The following campgrounds have comfort stations with multiple flush toilets (and potentially shower and laundry facilities, see below for details).
Shower Facilities
Shower facilities exist at the following locations in Algonquin Park.
Laundry Facilities
Pay-per-use laundry facilities exist at the following locations in Algonquin Park.
---
Related Information
Reserve your developed or backcountry campsite for your next visit.
Share your passion for Algonquin Park by becoming a member or donor.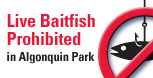 Special regulations for Algonquin's special fishery.