November 1, 2021
Public Notice and Opportunity for Comment: New Trailer Dump and Fill Station and Entrance Road to Canisbay Lake Campground
The public is invited to review and comment on the following project by the deadline below. See the notice below for complete details and how to submit comments.
The Ministry of the Environment, Conservation and Parks, Ontario Parks, is inviting public comment on its proposal to undertake the construction of a new, three-lane trailer dump and fill station on Highway 60 in Algonquin Park and to reconfigure access to Canisbay Lake Campground.
Comments must be received within the 30-day comment period which ends on November 30, 2021. See the attached notice for complete details.
Related Information
Reserve your developed or backcountry campsite for your next visit.
Share your passion for Algonquin Park by becoming a member or donor.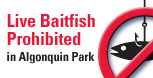 Special regulations for Algonquin's special fishery.