Day Use Fees
Daily Vehicle Permit*
Day use permits allow for day visits (valid until 10:00 p.m. of date of issue) to Algonquin Park, including access to trails, museums, beaches, and picnic grounds. For multiple day visits to Algonquin Park a Seasonal Day Use Permit may be more economical.
Day use permits are not sold online or in advance.
Day use permits can be purchased at most major park facilities including the West Gate, East Gate, Visitor Centre, Logging Museum, Sand Lake Gate, Cedar Lake-Brent Access Point Office, Kiosk Access Point/Kiosk Campground Office, Kawawaymog Lake Access Point Office, Rain Lake/Magnetawan Lake/Tim River Access Point Office, and Shall Lake Access Point Office.
Valid to March 31, 2021
Prices include applicable taxes (13% HST).
* Ontario Parks discounts camping and day use fees for Ontario residents 65 and older and for Ontario residents with a disability who have a CNIB identity card or an MTO disabled person's parking permit. Ontario Senior rates have been discounted by 20%, rates for Ontario persons with disabilities by 50%.
Fees are subject to change by Ontario Parks.
---
Related Information
Reserve your developed or backcountry campsite for your next visit.
Share your passion for Algonquin Park by becoming a member or donor.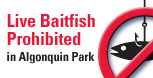 Special regulations for Algonquin's special fishery.