Park Wardens in Algonquin Park
To ensure our visitors enjoy their visit to Algonquin, Park Wardens are on patrol to:
provide information
ensure the safety of Park visitors
protect Algonquin Park and its resources
enforce Park rules and regulations
Within a Provincial Park, a Park Warden has all the power and authority of an Ontario Provincial Police (OPP) officer.
Park Wardens enforce the following legislation:
Provincial Parks and Conservation Reserves Act, 2006
Highway Traffic Act
Liquor Licence Act
Trespass to Property Act
Off-road Vehicles Act
Forest Fire Prevention Act
Motorized Snow Vehicles Act
Ontario Fishing Regulations
Criminal Code of Canada
Reserve your developed or backcountry campsite for your next visit.
Share your passion for Algonquin Park by becoming a member or donor.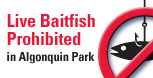 Special regulations for Algonquin's special fishery.