Can and Bottle Ban
Cans and bottles are prohibited in the Park's backcountry. The backcountry is everywhere except organized campgrounds and picnic grounds where there is regular garbage collection.
Under the ban, no person shall possess any non-burnable food or beverage containers other than containers and eating utensils that are specifically designed and intended for repeated use and for which no deposit is charged; and containers that are specifically designed for dehydrated foods. Metal foil is permitted, as are containers of fuel, insect repellent, medicine, or other items that are not food or beverages.
Reserve your developed or backcountry campsite for your next visit.
Share your passion for Algonquin Park by becoming a member or donor.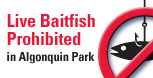 Special regulations for Algonquin's special fishery.