Waste Management in Algonquin Park
Ontario Parks has implemented an Integrated Waste Management System, throughout the Highway 60 Corridor of Algonquin Park. The Goals and Objectives of the Integrated Waste Management System are:
Reduce Park generation of waste and exceed provincial waste diversion target of 60%
Provide convenient opportunities for Park users to participate in diversion programs
Provide detailed annual reports on waste removal and generation
Implement best practices to improve efficiency, reduce costs and increase diversion
All material that is collected using the MOLOK Deep Collection Technology will be collected and processed by the Ottawa Valley Waste Recovery Centre.
MOLOK Deep-Collection Technology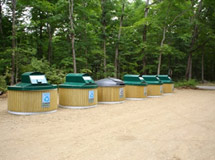 Developed throughout the 1980's, MOLOK is a waste management system that is installed partially underground. MOLOK takes advantage of the simple laws of nature, gravity and coolness of the earth, to maximize waste management capacities in a minimal space. MOLOK is resistant to wildlife, is virtually odourless and very attractive. Due to the large capacity and compaction of the waste through gravity, MOLOK's are emptied less often than traditional Ďabove ground' bins. Less empties means less environmental impact through exhaust emissions, and makes MOLOK the most cost-effective waste management system available today. These superior features make MOLOK the preferred waste management product for park applications, single and multi-family residential, commercial and restaurants worldwide.
Today, with over 100,000 MOLOK units installed and serviced throughout the world, MOLOK's many customers enjoy the superior qualities and cost savings of the MOLOK "Deep Collection" System for mixed waste, recyclables and organics. Visit MOLOK's website for more information.
In Algonquin Park, MOLOK units will be used to manage 4 streams of waste; paper recyclables, container recyclables, organics (where available), and regular garbage.
How Do MOLOKs Work?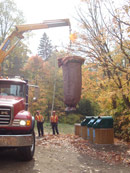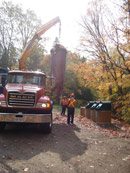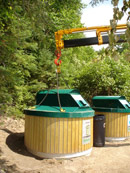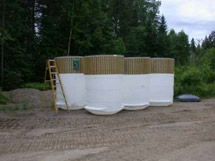 Molok is installed with 2/3 of the container in-ground. A reusable lifting bag is installed within the well, and the lid secured in place. During the emptying process, the lid is removed and the lifting bag is pulled from the well. After positioning the bag over a truck box, the patented safety release mechanism is triggered which opens the bottom of the bag, releasing the waste into the truck. The bag is then repositioned over the well, the safety trigger mechanism reset, and the bag lowered back into the well. This process takes about 3 minutes to complete.
Reserve your developed or backcountry campsite for your next visit.
Share your passion for Algonquin Park by becoming a member or donor.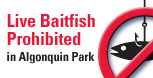 Special regulations for Algonquin's special fishery.