Backcountry Access Points
Algonquin Park has 29 access points located around the periphery of the Park and along Highway 60. These locations are starting points allowing visitors to access the Park's backcountry, and in most cases do not have developed campgrounds or extensive facilities.
---
Related Information
Reserve your developed or backcountry campsite for your next visit.
Share your passion for Algonquin Park by becoming a member or donor.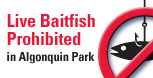 Special regulations for Algonquin's special fishery.