Aylen Lake Access Point
Location
From Highway 60, travel 11.8 kilometres east of the village of Madawaska, follow the Aylen Lake Road north for 7.8 km, turn left crossing over a dam and continue 0.4 km, turn right and proceed 0.3 km to the public boat launch on the southwest shore of Aylen Lake.
Latitude and Longitude: Approximately: 45.592714°, -77.866646°
Facilities
Parking
Bathrooms
Boat ramp
Backcountry Permits
Make a reservation for your backcountry camping permit up to 5 months in advance. Permits are only available online or via telephone.
Equipment Rental
Do you need to rent a canoe, tent, or other camping equipment? Find a business that can supply some or all of the required equipment for your backcountry trip.
Water Levels
Check for special advisories prior to your departure at Algonquin Park Advisories.
---
Related Information
Reserve your developed or backcountry campsite for your next visit.
Share your passion for Algonquin Park by becoming a member or donor.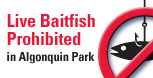 Special regulations for Algonquin's special fishery.