Centennial Ridges Trail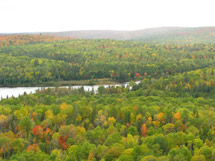 Description
Centennial Ridges Trail is a very demanding 10.4 km loop trail that affords spectacular viewing along two high ridges. The guide discusses contributions of selected people to the Park over its first century.
Length
10.4 km loop
Location
Centennial Ridges Trail is located at km 37.6 of Highway 60, with secondary access also from the Raccoon Lake Campground. Latitude/Longitude: 45.556381°, -78.420026° Visitors wishing to hike this trail in winter must park at the closed and locked gate at Centennial Ridges Road and Highway 60 adding about 2 km (one-way) to the hiking experience.
Difficulty Rating & Rationale
Theme
Historic Figures of Algonquin
Features & Amenities

Scenic lookouts
High ridges
Parking
Toilets
Trail Guide
Fees
A valid Park permit is required for trail use.
Nearby Attractions
---
Related Information
Reserve your developed or backcountry campsite for your next visit.
Share your passion for Algonquin Park by becoming a member or donor.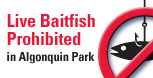 Special regulations for Algonquin's special fishery.