Brent Deputy Ranger Cabin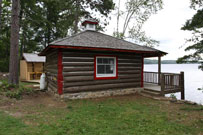 History
This Ranger Cabin is part of the historic Brent Deputy Ranger Headquarters constructed in 1932 and includes the Brent Ranger Cabin, a warehouse and small storage building.
The cabin was home for the Deputy Ranger who lived separate from his men. This series of buildings were built to replace an existing Ontario Forestry Branch building at the "Pine Alley" end of Brent and the new headquarters were "to provide a respectable looking building in keeping with the status of a Government service".
All buildings were constructed of sturdy White and Red Pine logs with a life expectancy, estimated at that time, of 30 years. By about 1964, operations had moved to Kiosk and the buildings were used only occasionally and fell into disrepair. In 1994 restoration of the Brent Ranger Cabin began and was completed in 1998, the same year that it was opened for public rental. In 2005, restoration work began on the Deputy Ranger Cabin and it was completed in 2010. In 2010, the Deputy Ranger Cabin was restored and re-opened. Both restoration projects were made possible through a partnership with The Friends of Algonquin Park, Algonquin Outfitters, and Ontario Parks.
Features and Amenities
Location and Access
Ranger Cabin Regulations
Learn more about special regulations that apply to Algonquin Park ranger cabins. See additional rules and regulations that apply to Algonquin Park.
Ranger Cabin Rental Fees
Ontario Parks charges fees for all ranger cabin rentals. See the latest ranger cabin rental prices.
Make a Reservation
Make a reservation for your backcountry camping permit up to 5 months in advance. Permits are only available online or via telephone.
Equipment Rental
Do you need to rent a canoe, tent, or other camping equipment? Find a business that can supply some or all of the required equipment for your backcountry trip.
Special Advisories
Check for special advisories prior to your departure at Algonquin Park Advisories.
---
Nearby Attractions
---
Related Information
Reserve your developed or backcountry campsite for your next visit.
Share your passion for Algonquin Park by becoming a member or donor.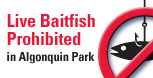 Special regulations for Algonquin's special fishery.