Portages in Algonquin Park
Portages are trails that connect two navigable waterways along the Park's Canoe Routes Network. Portages range in length from less than 50 metres to over 5 kilometres in length. Depending upon your desires and skill level, you can create a backcountry canoe trip or canoeing day trip to meeting your interest.
All portages in Algonquin Park are marked with a yellow sign with a portaging graphic (person carrying a canoe), and lists the connecting water bodies and the portage length in metres.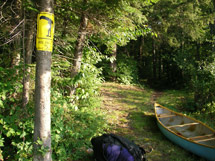 See the Canoe Routes Map-Brochure of Algonquin Provincial Park for more information.
Related Information
Reserve your developed or backcountry campsite for your next visit.
Share your passion for Algonquin Park by becoming a member or donor.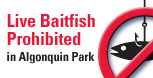 Special regulations for Algonquin's special fishery.