What Time of the Year for a Backcountry Canoe Trip?
Each part of the open water season has its own special beauty and atttractions, and many people plan several trips each year to take advantage of the Park's changing moods.
Canoeing in Algonquin can begin as soon as the ice is off the lakes, normally the last week of April, but sometimes as late as mid-May. Since trout fishing is at its best at this time of year and blackflies do not normally appear until late May, May can be an ideal time of year for an Algonquin canoe trip. The one serious drawback is the extreme cold of the water, and everyone should realize that the chances of survival are small if you are in the water for more than a very few minutes.

June is warm and full of bird song, but it is also blackfly and mosquito month and the Park tends to be quite deserted. For people to whom the flies are a minor inconvenience, June is a great month to have Algonquin practically all to themselves.
The blackflies have mostly subsided by the beginning of July, and mosquitoes taper off in the two or three weeks that follow. July weather is very warm and sometimes humid, which is pleasant enough when travelling on big lakes but less than ideal for trips involving long portages.
August is an excellent month for canoe tripping because there are only a few lingering mosquitoes, the days are warm, and the nights are cool.
September offers clear, cool days and often quite cold nights. If your timing is right (usually the last week of the month), you may catch the hardwoods in their final blaze of colour and encounter few other people in the backcountry.
Thanksgiving arrive in mid-October, and by this time the leaves have fallen and the Park landscape takes on yet another new and interesting aspect. From then until freeze-up in December, however, canoe tripping is recommended only for experienced trippers who are ready to take cold water (and possibly extreme weather conditions) in their stride.
Reserve your developed or backcountry campsite for your next visit.
Share your passion for Algonquin Park by becoming a member or donor.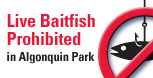 Special regulations for Algonquin's special fishery.