Third Party Event Fundraising
Hold an event in support of Algonquin Park! Your third party fundraising event can be almost anything including, but not limited to:
selling a product or service and direct a portion of the proceeds to support Algonquin Park;
throwing a party and ask guests to bring a donation in place of a gift;
hosting a recreational event and ask for a donation instead of an entry fee; or
developing a donation box at your place of business with donation directed to The Friends of Algonquin Park.
Regardless of the event you choose, you and your friends, family and community can support The Friends of Algonquin Park through third party fundraising.
Application Form
To host your own third party fundraising event, please complete the form below easily opened with Adobe Acrobat Reader or contact The Friends of Algonquin Park's Fundraising Administrator (see below) to discuss your idea.

Third Party Fundraising Form
Please note that all third party fundraising must be approved in advance of the event by The Friends of Algonquin Park.
More Information
To discuss your third party fundraising event ideas, please contact:
Partnership Coordinator
The Friends of Algonquin Park
Box 248
Whitney, Ontario K0J 2M0
Phone: (613) 637-2828 ext. 239
E-mail
---
Related Information
Reserve your developed or backcountry campsite for your next visit.
Share your passion for Algonquin Park by becoming a member or donor.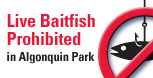 Special regulations for Algonquin's special fishery.