Charitable Remainder Trust
In a Charitable Remainder Trust you give The Friends of Algonquin Park an asset through a trust agreement. A Charitable Remainder Trust can be established by contributing bonds, stock securities, mutual funds or real estate to a trustee who then holds and manages it. You may choose a Charitable Remainder Trust because you have an asset that you would eventually like to give to The Friends of Algonquin Park, but you currently need the income it provides or you do not wish to part with the asset. A tax receipt will be issued when assets are transferred to a trust that names The Friends of Algonquin Park as the capital beneficiary.
More Information
To discuss your charitable remainder trust please contact:
Partnership Coordinator
The Friends of Algonquin Park
Box 248
Whitney, Ontario K0J 2M0
Phone: (613) 637-2828 ext. 239
E-mail
---
Related Information
Reserve your developed or backcountry campsite for your next visit.
Share your passion for Algonquin Park by becoming a member or donor.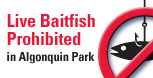 Special regulations for Algonquin's special fishery.