Gift In-Kind
Gift in-kind donations are non-financial charitable contributions and may be eligible for a tax receipt. These are tangible assets, which include books, equipment, software, historical artifacts from the Park and other personal property given to The Friends of Algonquin Park for its use or liquidation.
Our gift in-kind program is not meant to replace financial contributions from donors but to enhance The Friends of Algonquin Park giving program. Check our wish list to see what we are in need of.
More Information
To discuss your gift in-kind ideas please contact:
Partnership Coordinator
The Friends of Algonquin Park
Box 248
Whitney, Ontario K0J 2M0
Phone: (613) 637-2828 ext. 239
E-mail
---
Related Information
Reserve your developed or backcountry campsite for your next visit.
Share your passion for Algonquin Park by becoming a member or donor.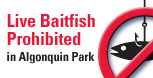 Special regulations for Algonquin's special fishery.