East Beach Picnic Pavilion

Facility
The East Beach Picnic Pavilion is a covered picnic facility suitable for 110 people (55 people per half-Pavilion). This facility is available for weddings, family reunions, business meetings, training courses, special events, and school group outings. It offers:
electricity and heat;
hot and cold running water;
picnic tables;
propane barbecue;
two stone fireplaces (two bags of firewood per side available on site); and
washroom facilities are available in the immediate vicinity.
Location
Operating Dates & Fees
General Public
The Pavilion is available for use by the general public, by reservation only, from the 4th Saturday in May to early September, daily from 10:00 am to 8:00 pm (The Park Superintendent may grant exemptions for those wishing to reserve the Pavilion outside these dates and times.)
Rates are $100 per side/day or $200 for the full Pavilion/day (includes reservation fee and vehicle passes valid for the Pavilion site only). A $100 refundable security deposit is required (see below).
Bus Tour Groups
From the first Friday in September until Thanksgiving, first priority will be given to accommodating bus coaches. During this time period, the following reservation times and fee schedule will apply for buses:
10:00 am to 12:30 pm - $100/side or $200 for full Pavilion
1:00 pm to 3:00 pm - $100/side or $200 for full Pavilion
3:30 pm to 8:00 pm - $100/side or $200 for full Pavilion
For special events please contact Park Information
In addition to the Picnic Pavilion rental fee, Bus Permits are required.
Fees are subject to change by Ontario Parks.
Reservations
Call 705 633-5572. Reservations are made on a first-come, first-served basis, no more than five months in advance of arrival. Payment may be made by Visa, MasterCard, cash, or cheque (made payable to the Minister of Finance).
Security Deposit
A refundable security deposit of $100 by credit card (Visa or MasterCard) will be applied to each booking. If no damage has been incurred, the security deposit will be refunded via credit card within five business days.
The person/organization/group making the reservation will be responsible for returning the Pavilion to its original condition before departure. The renter will be responsible for all costs of repair due to damage caused by their misuse of the facility.
Cancellations and Refunds
Cancellations or re-scheduling up to 14 days in advance of the expected arrival date will receive a full refund minus a $25 administrative fee. Cancellations made 14 days or less in advance of their reservation date will be charged a $50 (half-Pavilion) or $100 (full-Pavilion) fee.
Access Keys to the Facility
Keys may be obtained at either the East or West Gate Information Offices. Keys must be returned to the East Gate or West Gate Self Serve Fee Station Deposit Box. In the event that the facility keys are not returned, the security deposit will not be refunded.
Regulations
All visitors to Algonquin Park must abide by regulations under the Provincial Parks and Conservation Reserves Act and other legislation which are enforced by Park Wardens.
Some regulations of particular interest when using the Picnic Pavilion include:
A Daily Vehicle Permit or Bus Permit is required to access Algonquin Park.
Catered food services are permitted on site, however, no cooking is allowed in the Pavilion (e.g., barbecues, cook stoves, fireplace, etc.).
Alcoholic beverages are not permitted on the site.
No smoking or pets in the facility.
No littering. All garbage and recyclables must be placed in proper receptacles.
No excessive noise at any time.
Capacity of the Pavilion is limited to 110 people (or 55 per side) for safety reasons and availability of parking.
For special functions, the reserving party must apply for a Special Event Permit and obtain prior authorization from the Park Superintendent.
Nearby Attractions
---
Related Information
Reserve your developed or backcountry campsite for your next visit.
Share your passion for Algonquin Park by becoming a member or donor.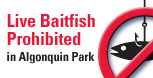 Special regulations for Algonquin's special fishery.