Fire Tower Trail

Description
This fully accessible trail is 200 metres (660 feet) round-trip and goes to a viewpoint overlooking the Sunday Creek valley where there is a replica of a cupola (wooden lookout structure) that was at the top of steel fire towers in Algonquin Park. Along the route, discover more about fire and fire towers in Algonquin Park through a series of exhibit panels.
Length
Location
Difficulty Rating & Rationale
Easy
This trail is universally accessible and suitable for all ages.
Features & Amenities
Scenic views of the Sunday Creek Valley
Exhibit panels about fire and fire towers in Algonquin Park
Parking
Toilets
Trail Guide
There is no trail guide for the Fire Tower Trail, but self-guided exhibit panels are located on the trail.
Fees
Nearby Attractions
---
Related Information
Reserve your developed or backcountry campsite for your next visit.
Share your passion for Algonquin Park by becoming a member or donor.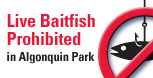 Special regulations for Algonquin's special fishery.