Issued: July 7, 2015 Updated: September 9, 2015
Public Advisory – Dickson Lake and Lake Lavieille – Algae Present
Ontario Parks, the government organization responsible for the management of Algonquin Provincial Park, is reporting...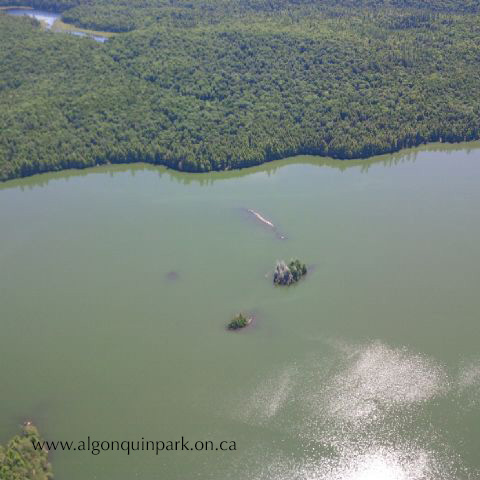 Aerial image of algae at Dickson Lake in Algonquin Park on June 30, 2015.
"Lab results have confirmed a blue-green algae bloom (genus Anabaena) on Dickson Lake. This type of algae (cyanobacteria) can produce toxins that pose a health risk to people and animals. Dickson Lake and Lake Lavieille will remain closed to overnight camping for the remainder of 2015.
Despite the closure of Dickson Lake and Lake Lavieille to overnight camping, park visitors may continue to paddle across Dickson Lake and Lake Lavieille as part of the canoe route network.
Park visitors travelling across Dickson Lake and Lake Lavieille should take the following precautions;

People or pets should not drink lake water (even if treated or boiled)

Do not use the water for food preparation or bathing

Minimize direct contact with the water surface

Do not consume fish from Dickson Lake and Lake Lavieille during this time
Ontario Parks continues to work with other government agencies, partners, and researchers for any indication of what is causing these blooms.
For more information about blue-green algae please contact your local Health Unit.

Please refer to this website for future updates."
---
Related Information
Reserve your developed or backcountry campsite for your next visit.
Share your passion for Algonquin Park by becoming a member or donor.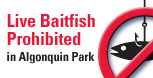 Special regulations for Algonquin's special fishery.