Issued: September 25, 2014 - Please see an update to this news bulletin at Algae Bloom Update – Dickson Lake and Lake Lavieille.
Dickson Lake and Lake Lavieille Closed to Travel and Camping - Algae Bloom
Ontario Parks is reporting...
Dickson Lake and Lake Lavieille are currently experiencing an "algae bloom." Recent samples have identified this bloom as a type of blue-green algae (genus Anabaena). This type of algae can pose a health risk to pets and humans. These lakes are closed to public travel. No camping or canoeing is permitted.
What are blue-green algae?
Blue-green algae are microscopic organisms (cyanobacteria) that are naturally present in lakes and streams. They are usually present in low numbers but can, under the right conditions, rapidly increase and form blooms that discolour the water or produce floating rafts or scum on the surface of the water.
What are the potential health effects from drinking or coming in contact with water containing blue-green algae?
Some blue-green algae produce toxins that can pose a health risk to people and animals when they are exposed to them in large enough quantities. Health effects can occur when surface scum or water containing high levels of blue-green algal toxins are swallowed, through contact with the skin, or when airborne droplets containing toxins are inhaled while swimming.
Some of the possible symptoms include vomiting, diarrhea, abdominal pain, nausea, skin irritation and blistering.
What should campers do?
People and pets should not drink lake water during an algal bloom, even if it is treated, because boiling, disinfecting with chlorine or water filtration units do not properly eliminate blue-green algal toxins. Water should not be used for food preparation or bathing. Fish should not be consumed during this time.
Please consult your local Health Unit for more information.

Dickson Lake and Lake Lavieille are closed to public travel.
---
Related Information
Reserve your developed or backcountry campsite for your next visit.
Share your passion for Algonquin Park by becoming a member or donor.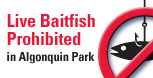 Special regulations for Algonquin's special fishery.