December 16, 2013
Mew Lake Campground Skating Rink Now Open
A skating rink has been created near the Mew Lake Campground Comfort Station for visitors coming to Algonquin Park this winter. Don't forget to pack your skates on your next trip to Algonquin Park!
Please note that the rink may be closed during periods of unseasonably warm winter weather. Watch for signs at the rink for details.
Related Information
Reserve your developed or backcountry campsite for your next visit.
Share your passion for Algonquin Park by becoming a member or donor.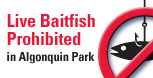 Special regulations for Algonquin's special fishery.