Two Rivers Store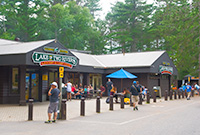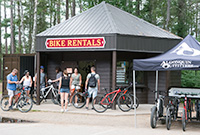 Description
The Lake of Two Rivers Store, operated by Algonquin Outfitters under agreement with Ontario Parks, has an assortment of fresh produce and fruit, fresh and frozen meats, dairy, groceries and sundries as well as an in-store bakery. The store also features a full range of camping and fishing supplies.
The cafe and grill has a selection of prime rib burgers, fresh cut french fries, an assortment of wraps as well as garden-fresh salads, and sandwiches. The dairy bar has ice cream cones with over 16 flavours, as well as milkshakes and sundaes, all sourced from Kawartha Dairy. Mountain bikes and fat bikes are available for rental at the store. The rental fleet even includes cruiser bikes, which are easier and more comfortable to ride. All bikes in a variety of sizes undergo regular maintenance. Helmets are included in the rental rates (please contact for pricing). The Old Railway Bike Trail is easily accessible from the Lake of Two Rivers Store.
Operating Dates
Open spring to fall

Spring = May 1 until approximately early June, 8:00am to 7:00pm daily

Summer = Second Friday in June to Labour Day, 7:00am to 9:00pm daily

Fall = Tuesday after Labour Day until Thanksgiving Monday, 8:00am to 7:00pm daily

Location
Features
Complete grocery and supply store

Gift shop – large selection of Park textiles and unique Algonquin gifts

Cafe and grill –burgers, fries, wraps, salads, full breakfasts, ice cream cones

Fresh baked goods – in-store bakery

Mountain bike rentals – quality mountain bikes, helmets included, 4 hour up to multi-day rentals available
Nearby Attractions
Contact

Algonquin Outfitters
1035 Algonquin Outfitters Road
Dwight, Ontario, Canada P0A 1H0
Phone: 1-800-469-4948 (Oxtongue Lake)
Web: www.algonquinoutfitters.com
E-mail: lakeoftworivers@algonquinoutfitters.com
---
Related Information
Reserve your developed or backcountry campsite for your next visit.
Share your passion for Algonquin Park by becoming a member or donor.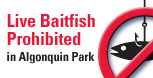 Special regulations for Algonquin's special fishery.