January 14, 2011
Ontario Parks New Reservation System - Active as of January 16, 2011
From an Ontario Parks News Release - January 13, 2011
The Ontario Parks' new reservation service will be available to make reservations on Sunday, January 16th, at 7:00 a.m. EST. You will have access January 14th and 15th so you can create a new user account and explore the new features and functions.
Tutorials have been developed to assist you with navigating the reservation site.
| | | |
| --- | --- | --- |
| "New Features" on YouTube | | "Finding Campsites" on YouTube |
| | | |
On Sunday, January 16th we expect higher than normal demands as you book your campsite reservations. Please be patient as you may experience slow response times.
When you go to make your reservation online you will notice a new look and many new improvements. We listened to suggestions you made and so there will be some changes from our previous service.
Here's what you need to know:
You can visit the site and create a user account on January 14th, but you will not be able to make reservations until January 16th.
It will be necessary for you to create an account before you can book a reservation online. See the Frequently Asked Questions on how to set up your account. Remember, you can only make a reservation five months in advance of your arrival date.
Our phone number and web address stay the same. You continue to go to www.OntarioParks.com or 1-888-ONT-PARK (1-888-668-7275) to make your campsite reservation. The call centre hours will remain the same: 7:00 a.m. to 9:00 p.m. EST. Online reservations can still be made 24 hours/day, year round. The International telephone number remains the same: 1-519-826-5290.
Reservation and camping fees will remain the same for the 2011 season. There will be a $1 savings if the reservation is made online.
There are many new enhancements to the reservation service that campers will appreciate such as:

The site is easier to navigate
Your camping dates and equipment types are kept for all searches (i.e. map, list, calendar)
Campsite photographs have been added for many parks (and we will continue to add more)
There is no time limit to complete the checkout process
There is a clock at the top-right of every page which will help remind you when the call centre opens (daily from 7:00 a.m. to 9:00 p.m. EST)
The five month in advance reservation window is clearly displayed in the date calendars
Any camping restrictions (e.g. alcohol ban, radio free campgrounds) are displayed when you are making your reservation
The price for the campsite is included in the site description so you know how much you will pay before you decide to book
You can now change a reservation to a different campground within the same park, without having to cancel your original reservation
The "My Reservations" feature displays your active reservations as well as any past transactions
Ontario Parks is committed to providing world-class recreational opportunities for our visitors through excellent customer service.
We appreciate your patience and loyalty while we continue to upgrade our reservation service in order to serve you better. Please let us know what you think by sending us your comments on the new reservation service.
---
Related Information
Reserve your developed or backcountry campsite for your next visit.
Share your passion for Algonquin Park by becoming a member or donor.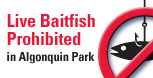 Special regulations for Algonquin's special fishery.