The Friends of Algonquin Park
The Friends of Algonquin Park (FOAP) is a non-profit Canadian registered charity for people passionate about Algonquin Park. We dedicate our resources to furthering the educational and interpretive programs to develop current and future stewards of Algonquin Park. We do this through research, the development and delivery of programs, workshops, and events, plus the production of educational materials.
The Organization
Participate
Social Media
Reserve your developed or backcountry campsite for your next visit.
Share your passion for Algonquin Park by becoming a member or donor.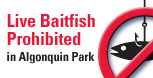 Special regulations for Algonquin's special fishery.