Natural Brook Trout Lakes of Algonquin Park
Algonquin Park is home to one of the world's highest concentrations of natural Brook Trout lakes. Despite being a 7,630 square kilometre protected area, Algonquin's native fisheries are under threat. Learn what research has taught us about this special fishery and the simple things you can do to protect it for future generations. Learn more about Algonquin's Brook Trout fishery.
Related Information
Reserve your developed or backcountry campsite for your next visit.
Share your passion for Algonquin Park by becoming a member or donor.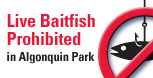 Special regulations for Algonquin's special fishery.