Two Algonquin Park Lakes Get New Names
The Ontario Geographic Names Board and the Ministry of Natural Resources and Forestry is advising that two lakes in Algonquin Park - Coon Lake and Little Coon Lake - are getting new names, to the full form of the name of the animal, after objections to the shorter form being offensive.
The Board reports "the official geographic names in Ontario that contained the offensive word "Coon" have been changed to "Raccoon". Approval by the Minister of Natural Resources was received on March 1, 2021 and was based on recommendations by the Board, which cited Geographic Naming Principle 5.2(i) - The Board will not recommend a name that it considers as derogatory. The former names were identified by numerous separate parties as highly offensive. The Board has the authority to recommend to the Minister the removal and replacement of official names that are deemed offensive by Ontarians."
---
Related Information
Reserve your developed or backcountry campsite for your next visit.
Share your passion for Algonquin Park by becoming a member or donor.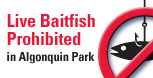 Special regulations for Algonquin's special fishery.