May 27, 2020
Happy Birthday Algonquin Park!
Image: Sunrise revealing the spring leaf colour at the Algonquin Park Visitor Centre in Algonquin Park on May 27, 2020.
On May 27, 1893 the Ontario Legislature created Algonquin Park to provide "a public park, and forest reservation, fish and game preserve, health resort and pleasure ground for the benefit, advantage and enjoyment of the people of the Province". Since its creation, Algonquin Park has become an increasingly special place for people from around the world. Based upon success of the establishment of Algonquin Park 127 years ago, Ontario has continued to expand the provincial park system. Ontario had just 8 provincial parks until 1956, but today the park system has expanded to 340 (operating and non-operating) parks covering approximately 8% of Ontario.
In order to help share Algonquin Park with visitors from the world, The Friends of Algonquin Park was established in 1983. This Canadian registered charity and non-profit, non-governmental organization is people passionate about Algonquin Park. The Friends enhance normal government funding for Algonquin Park by generating revenue through the operation of retail locations, recruiting members, and fundraising. All of our proceeds are reinvested back into the Park. The Friends of Algonquin Park is celebrating 37 years of supporting Algonquin Park in 2020 and we hope you will consider making a donation on this important date.
---
Related Information
Reserve your developed or backcountry campsite for your next visit.
Share your passion for Algonquin Park by becoming a member or donor.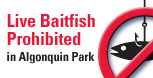 Special regulations for Algonquin's special fishery.