Issued: March 14, 2020 Updated: September 21, 2021
Algonquin Park COVID-19 Updates
Government of Ontario Announcements
Best Practices
---
What is Open and Closed in Algonquin Park
Below is a list of what is open and closed in Algonquin Park related to COVID-19 (Coronavirus). Details are based upon announcements by the Premier of Ontario, Ontario Parks, and Algonquin Park. Watch this webpage for new information, frequent updates, and clarifications as they are announced. See Algonquin Park Advisories for additional closures and alerts.
Open
Open for in-person shopping with capacity limits. See the real-time occupancy to plan your visit.
Online ordering, and phone orders with curbside pickup (613 637-2828) are still open.
Reception building, outdoor trail, and all historical exhibits are open.
Theatre is closed as of September 22, 2021.
Interpretive Walking Trails - Guidebooks with maps are now available in the trailhead dispensers, or order trail guidebooks with maps online.

Additional Trails With Self-Guided Exhibit Panels
---
Closed
Hardwood Lookout Trail will be closed on specific dates. The shortest interpretive walking trail in Algonquin Park (and its parking lot), will be closed the following dates during fall to improve traffic flow.

September 11/12, 2021
September 18/19, 2021
September 24/25/26, 2021
October 1/2/3, 2021
October 8/9/10/11, 2021
October 16/17, 2021
Theatres are closed at the following locations as of September 22, 2021.

Algonquin Park Visitor Centre
Algonquin Logging Museum
Rain Lake Access Point (September 27 to October 12, 2021) The Rain Lake Road providing entry to the Rain Lake Access Point will be closed outside Algonquin Park from September 27 to 12, 2021 for bridge repairs. No access to the Rain Lake area is possible during this closure.
Only four Ranger Cabins are open (Rain Lake, Kiosk, Brent, Deputy Brent). All other ranger cabins are closed for all of 2021 by Ontario Parks.
---
Special Events and Exhibits
Some events and exhibits have been canceled or postponed as a result of the COVID-19 pandemic and resulting restrictions, while others are planned with modifications. See Special Events and Exhibits for details.
---
More About COVID-19
Staff of The Friends of Algonquin Park are employing best practices for health and safety in the workplace relating to this disease. We will continue to monitor this evolving situation, and will update this webpage as required.
---
Related Information
Reserve your developed or backcountry campsite for your next visit.
Share your passion for Algonquin Park by becoming a member or donor.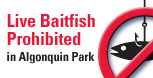 Special regulations for Algonquin's special fishery.