Algonquin Fall Film
The Friends of Algonquin Park are pleased to announce the release of Algonquin Fall a film by wildlife cinematographer Hugo Kitching that showcases fall in Algonquin Park.
Each year from September to November, Algonquin Park undergoes a dramatic transformation from summer to winter. With Algonquin Park's relatively high elevation compared to surrounding areas, and thus cooler temperatures, summers are short lived. Shorter daylight length and cooler temperatures, encourage plants and animals to prepare for winter. This film showcases the spectacular scenery and wildlife associated with fall in Algonquin Park. This footage was recorded entirely within Algonquin Park.
---
About The Friends of Algonquin Park
The Friends of Algonquin Park is a Canadian registered charity and non-profit, non-governmental organization established in 1983 for people passionate about Algonquin Park. We operate retail locations, recruit members, and fundraise to support the natural and cultural educational goals of Algonquin Park.
---
Related Information
Reserve your developed or backcountry campsite for your next visit.
Share your passion for Algonquin Park by becoming a member or donor.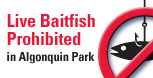 Special regulations for Algonquin's special fishery.