Issued: July 23, 2013
New Fire Tower Trail Coming to Algonquin Park Visitor Centre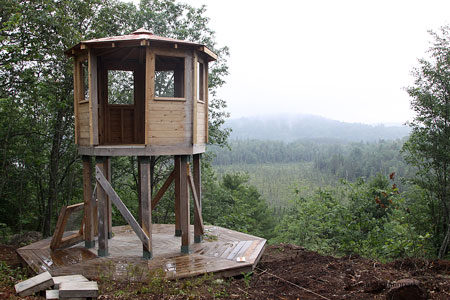 With funding from The Friends of Algonquin Park and the guests of Blue Spruce Resort, Ontario Parks is developing a new fully accessible trail at the Algonquin Visitor Centre. This new boardwalk is being called the "Fire Tower Trail", as it visits a reconstructed cupola (the building at the top of a fire tower). A special thanks to the Algonquin College Carpenter Apprentice Program and the Fire Rangers of the Ontario Ministry of Natural Resources for their efforts building and assembling the cupola. Ontario Parks expects this trail will be open in late summer or fall 2013.
Algonquin Park's Fire Tower History
There were at least 23 fire towers built in Algonquin Park.
One of Ontario's first fire towers was "built" at Smoke Lake in the top of a tall White Pine tree. Stairs were attached to the trunk of the tree allowing access to a rough platform in the top of the tree.
The tallest wooden fire tower in Ontario was the "Summit tower" located at the summit of the Ottawa, Arnprior and Parry Sound Railway north of Brule Lake in Algonquin Park. This tower was reported to be 31 metres (102 feet) high.
Fire towers were a common sight in Algonquin Park prior to the use of airplanes for the detection of forest fires. With the use of airplanes for fire detection, fire tower use became obsolete.
Algonquin Park Superintendent Frank MacDougall (1931-1941) was known as the first "flying Superintendent" since his ability to fly an airplane greatly aided in the detection of forest fires within the Park.
The last fire tower standing in Algonquin Park was the Big Crow Lake fire tower built in 1956. The metal support frame is still standing today, but the cupola was hit by lightning and burnt in 2010.
Images
The structure of the boardwalk trail leading to the cupola.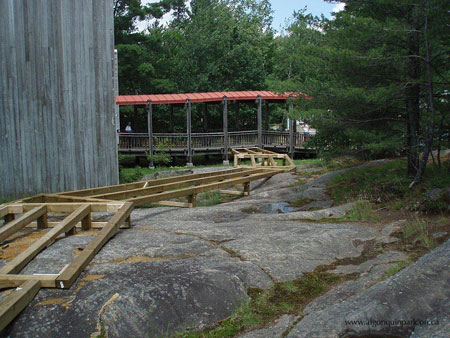 Start to the Fire Tower Trail near the entrance of the Algonquin Visitor Centre.
---
Related Information
Reserve your developed or backcountry campsite for your next visit.
Share your passion for Algonquin Park by becoming a member or donor.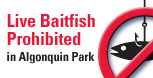 Special regulations for Algonquin's special fishery.