Credits
This website is owned and maintained by The Friends of Algonquin Park. We work in cooperation with our partners, such as Ontario Parks, to provide users with timely and accurate Algonquin Park information.
See Terms of Use.
Numerous individuals and organizations make this website possible. They include:
Content
The Friends of Algonquin Park
Ontario Parks
Algonquin Fisheries Assessment Unit
Algonquin Forestry Authority
Images
Algonquin Park Archives
Algonquin Park Image Collection
Bill Bickle
Colin Jones
Dave Hall
Greg Betteridge
Jerry Schmanda
Jessica Christiansen
Jim Bartlett
Justin Peter
Kelly Stronks
Kevin Clute
Norman R. Lightfoot
Ontario Parks
Peter Clute
Peter Ferguson
Rick Stronks
Sophie Mazowita
Steve Papillon
Special Thanks
Imaginus North
Reserve your developed or backcountry campsite for your next visit.
Share your passion for Algonquin Park by becoming a member or donor.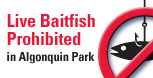 Special regulations for Algonquin's special fishery.