Synopsis of Public Wolf Howl #117
Date:August 4, 2016
Location: Algonquin Visitor Centre (km 43 of Highway 60)
Result: Unsuccessful
Total Number of cars: 390
Estimated number of people: 1,560
Number of staff working: 18
How the pack was found
The naturalist staff scouting for wolves earlier in the week had a full pack response below the Visitor Centre towards Fork Lake.
What happened at the howl?
We moved the line of cars from the Outdoor Theatre to the Visitor Centre and first parked cars in all of the "fixed" parking spaces. We next added cars between the rows of parked cars and around the outside loop. We also had two school buses with a boys group who walked from the buses to the tile bed. Once everyone was in place, we started the first howling sequence without success. After a 10 minute break, the naturalists again howled and we used 4 staff for the group howl.

Comments from the Chief Park Naturalist
Surprisingly, this was the first time that the Visitor Centre parking lot was used as the main site for a Public Wolf Howl. Logistically, it went well but it took almost all of the staff to assist in the parking. We arrived at 9:15 and it took approximately an hour to get the nearly 400 cars parked. Unfortunately, the wind was gusting which made it very difficult to hear. The howlers believe that the pack did respond distantly after the second group howl on the second series of howls. However, it is unlikely that any visitors would have heard them.
Reserve your developed or backcountry campsite for your next visit.
Share your passion for Algonquin Park by becoming a member or donor.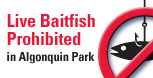 Special regulations for Algonquin's special fishery.