Synopsis of Public Wolf Howl #116
Date: August 15, 2013
Location: Ring-necked Pond (km 42 of Highway 60)
Result: Successful
Total Number of cars: 566
Estimated number of people: 2,264
Number of staff working: 24
How the pack was found
The naturalist staff scouting for wolves on Tuesday night heard these wolves from Spruce Bog Trail but the staff felt the pack was actually located close to Ring-necked Pond. On Wednesday night the wolves were again at the same spot as the previous weeks and a full pack howl was heard.
What happened at the howl?
We moved the line of cars from the Outdoor Theatre to the Visitor Centre to turn the first half of cars around. We centered the line of cars at Ring-necked Pond. Once everyone was in place, we started the first howling sequence. There was no response after the 3 single howls but after the second group howl (two naturalists howling to imitate a pack), the pack responded but the wolves were south of the highway. For the second howling sequence, the pack again responded but this time after the second single howl. The pack had moved between the howls and seemed to be closer to Rock Lake Road.

Comments from the Chief Park Naturalist
Another successful night of wolf howling! We celebrated the 50th anniversary of Public Wolf Howls with one of the largest crowds in years. We had some challenges at the wolf howling site – the wind was still blowing which made it a little tough to hear. As well, the pack had moved from the traditional site just north of the Ring-necked Pond to south of Highway 60. However, despite these challenges, I believe that most of the audience should have been able to hear wolves even if they were distant. A special thanks goes out to our guest howlers, Ron Tozer and Dan Strickland!
Reserve your developed or backcountry campsite for your next visit.
Share your passion for Algonquin Park by becoming a member or donor.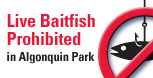 Special regulations for Algonquin's special fishery.