Synopsis of Public Wolf Howl #115
Date: August 8, 2013
Location: Ring-necked Pond (km 42 of Highway 60)
Result: Successful
Total Number of cars: 373
Estimated number of people: 1,492
Number of staff working: 22
How the pack was found
The naturalist staff scouting for wolves on Tuesday night did not hear wolves at any of the scouting locations. However, on Wednesday night the wolves were again at the same spot as the previous week and a full pack howl was heard.
What happened at the howl?
We moved the line of cars from the Outdoor Theatre to the Visitor Centre to turn the first half of cars around. We centered the line of cars at Ringneck Pond. Once everyone was in place, we started the first howling sequence. There was no response after the 3 single howls but immediately after the first group howl (two naturalists howling to imitate a pack), the pack irrupted and pups and adults could be heard. For the second howling sequence, a single wolf has believed to be heard after the first human howl. To try to get the pack to respond, the naturalists decided to follow this howl with their group howl. Unfortunately, the pack did not respond after the three group howl attempts.

Comments from the Chief Park Naturalist
Another very successful night of wolf howling! The crowd was again enthusiastic, the staff and volunteers working were excellent and the wolves responded. This pack has been excellent for two weeks in a row. What a wonderful way to spend an evening in Algonquin Park!
Reserve your developed or backcountry campsite for your next visit.
Share your passion for Algonquin Park by becoming a member or donor.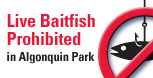 Special regulations for Algonquin's special fishery.